The Southwestern Pennsylvania Commission's CommuteInfo® program is coordinated in partnership with transportation management associations, transportation providers, businesses and non-profit service organizations throughoutSouthwestern PA.
The CommuteInfo program is designed to increase the number of people who travel to work or school by riding transit, carpooling, vanpooling, or bikepooling. Visit Commuteinfo.org to get started today!

Freedom Transit provides transportation service that is Shared-Ride in nature. That means you will likely be riding with others, and that other individuals may be picked up and dropped off before you reach your destination. The service provided is Door-to-Door. All passengers must be registered with Freedom Transit before using the services, and advance reservations are required. Visit www.freedom-transit.org for more info!

Fayette Area Coordinated Transportation (FACT) provides the majority of the public transportation in and around Uniontown and Fayette County. FACT has several local county routes, commuter services from Uniontown via Route 51 to Pittsburgh and operates Fayette County's Shared Ride, Medical Assistance Transportation and Welfare to Work Programs.  For more information visit FACTbus.com!

If you or your organization has an interest in public transportation and services, PPTA is your organization. PPTA is the state's professional trade organization which provides leadership, resources, support and technical assistance. PPTA is a unified voice serving to advocate and strengthen the role of public transportation in improving the quality of life for all Pennsylvania citizens. PPTA is also a great place to learn more about public transportation in the entire state.
Visit PPTA.net for more!

Port Authority of Allegheny County provides public transportation services throughout a 775 square-mile area that includes Pittsburgh, Allegheny County and small portions of some neighboring counties. The Port Authority operates the 28X Airport Flyer from Downtown Pittsburgh to the International Airport and many other routes that MMVTA riders can catch via Route A in Downtown Pittsburgh. Visit PortAuthority.org for more!

Westmoreland Transit provides the majority of public bus transportation in and around Greensburg and Westmoreland County. Also, Westmoreland Transit administers the Westmoreland County Medical Assistant Transportation Program for all portions of the county. Visit Westmorelandtransit.com for more!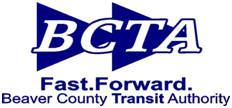 Beaver County Transit Authority (BCTA) is the public transportation provider in Beaver County. BCTA offers numerous local county routes to and from shopping areas, downtown districts and employment sites. BCTA also provides commuter service to and from Downtown Pittsburgh and Beaver County. Plus, BCTA operates the Demand and Response Transit (DART) door-to-door, advanced reservation, shared-ride system in Beaver County.
Visit BCTA.com for more information!